In this article, we will look at the best hot toys figures of all time and see their features in detail.
First things first, who are hot toys? And why are Gen-Z and Millenials obsessing over them? Hot Toys made their first-ever action figure release in 1999 under the category "Famous Types." Even today, they are one of the most loved, appreciated, and sought-after collectibles. 
Rare Hot Toys have been sold for tens of thousands of dollars. If you have been newly introduced to the world of Hot Toys, you might be wondering what makes Hot Toys so expensive and worth the hype? 
Well, Hot Toys are admired for their likeness and attention to detail that can easily blow minds, and the realism is outstanding and commendable. 
Limited editions, mainly hand-painted by the finest artists, and superior quality further support the idea of spending a hefty amount for them. This article will look at some of the most sought-after and best hot toys figures of all time. 
You might like to read: How Long Do Hot Toys Last?
1. Hot Toys: Godfather Vito Corleone 2009
The Vito Corleone figure was made available to the masses for the first time in 2009. After that, the brand re-released the figure in 2011 to raise funds for the Japanese Tsunami Disaster of 2011. Just 20 of these figures were released in the market, and they differed from their predecessor in terms of the details. 
The figure has over 32 points of articulation; it is dressed in real fabric and adorns movie-accurate black couture. The paint job was made to look more realistic, and the head sculpture was more detailed and had a facial texture. It includes two sets of interchangeable hands, with one for holding the glass. 
The figure features a fantastic resemblance and finely emulated head sculpt. It includes the famous chair, glass, and his beloved cat. Not only this, but his beloved cat also got a makeover, and the cat was newly sculpted and painted too. 
2. Hot Toys: Billie Jean Michael Jackson 2009
This hot toy came around in 2009, the very year the legendary musician and Hollywood pop star- Michael Jackson kissed goodbye to the world. The 'Slim Version' body has over 38 points of articulation. 
It very naturally became pricey and a super hit. It is easily one of the most sought-after ⅙ scale figures. The figure features the authentic likeness of Michael Jackson and showcases him adorning a beautiful sequined black coat, his black hat, and, of course, a trademarked single sequined white glove. 
His monochromatic outfit is complete with white socks and black shoes. The figure comes with three sets of interchangeable hands and a microphone and microphone stand for the same. 
Buy it here: Amazon.com
3. Hot Toys: Joint Promotional MK.VI Iron Man 2012
"Each piece of the Avenger Mark VI collectible figurines is specially repainted and finished."- mentioned HT. Hot Toys released two versions of the MK VI Iron Man Figure for the Avengers movie in 2012. 
This movie promo edition was limited to 3000 units the world over. The first 500 units of this were available at pre-order solely in Hong Kong. The second version was available exclusively in Hong Kong and was limited to only sixteen pieces. 
Yes, you read that right, sweet sixteen.
What's more? The Joint Promo Edition features a light-up base. What caught our eye most was the distinct hair fringe and hairdo in both the figures. These scarce pieces sell for more than 20,000$ on the secondary market. 
You can, however, always try your luck on eBay and the likes to find one at almost double the price. 
4. Hot Toys: The Joker, Batman Imposter 
It is an exclusive that depicts a scene that did not appear in the movie. Regardless, it continues to be a hot ticket item, and its highly detailed body, with the evil smile, are the showstoppers. The figure, we must say, is highly stylistic. 
The figure can be seen draped in a specially designed, never seen before Batsuit. Unique tattoo prints can be seen atop the signature green and purple colors. The costume includes one purple leather-like cape and a green utility belt with a playing cards motif. One pair of green boots and green forearm gauntlets complete the costume. 
Jared Leto's sinister grin as the Joker and the head sculpt are on point. With the box, you get two blood-stained Batarangs along with the flag gun. The Joker can be seen effortlessly holding a flag gun in his right hand. This figure in the collection is sure to be a jewel among all. 
Buy it here: Amazon.com
You might like to read: Toys You Can Take Apart And Put Back Together
5. Hot Toys: Joker 2.0 Deluxe
Yes, this ⅙ scale figure was so popular that it was relaunched and came out in an even pricier deluxe version. This figure was designed after Heath Ledger's immortal portrayal of the Joker in the movie The Dark Knight. 
This figure is genuinely movie-accurate, and the most exciting part is that it is equipped with Hot Toys' patented Parallel Eyeball Rolling System. The True Type Body has over 35 points of articulation and enhanced realism in the upper body. The makeup, expression, and wrinkles are done in detail, and each piece of head sculpt specially hand-painted. 
The figurine comes with eight pairs of interchangeable gloved palms, including one pair for holding a gun, one left palm for holding The Joker cards, one right palm for holding the knife, two right and one left posing palms left relaxed palm. 
Not only this, but six pairs of ungloved palms also exist. The costume comprises one purple overcoat, grey jacket, green vest, patterned shirt and tie, pair of dark blue pants with stripes, checker sock, and a pair of brown shoes. 
It has not one, not two, but three knives and one machine gun, shotgun, and a pistol. The deluxe light-up figure stand bears a copper-like finish, including the Joker 2.0 nameplate, movie logo, and DX series title. 
It might still be available for around 500$, and it is loved and wanted by so many. It is no wonder that high-quality pictures of this figure can look like visuals from the movie itself because it is so realistic. 
Buy it here: Amazon.com
6. Hot Toys: Iron Man Mark XLII Deluxe
Iron Man fans know how many iron man hot toys have come out. This deluxe figure isn't your regular ⅙ scale figure, but it is a ¼ scale figure. It is 20 inches high. The figure's mask is so designed that it can be slid up, which will give a glimpse of Tony Stark's face which has been detailed out reasonably well. 
The interchangeable helmeted head comes with an LED light-up function which exhibits white light and is battery operated. The armor is metallic gold with red and silver colored painting on the streamlined iron man armor with oh so beautiful weathering effects. 
The circle-shaped arc reactor on the chest and back gives off a white light, and the eyes are similarly illuminated. However, the sides of the chest, forearm, and the back of the legs give off a different blue light. With the purchase, one gets an interchangeable battle-damaged mask, interchangeable battle-damaged chest, and shoulder armor. 
The six pieces of interchangeable hands are the highlight of the show for us. It comprises one pair of fists, one pair of hands with articulated fingers and light-up repulsors, one pair of repulsor firing hands. Each piece of head sculpts specially hand-painted. 
The accessories include one articulated flashbang, one battery booster with electrical cables, one specially designed Arc-reactor themed diorama figure base with detachable gantry arms, the nameplate, and the movie logo. 
Oh yes, they are battery-operated and can be lit. It is no secret that Iron man fans love these hot toys. They are so well crafted, after all. However, yes, they come for a reasonable price. 
Buy it here: Amazon.com
7. Hot Toys: Star Wars Anakin Skywalker
The sixth scale collectible figurine features a head sculpt with massive likeness. The newly painted head sculpt bears a face scar, highly accurate facial expression, and a detailed skin texture. Each head sculpts specially hand-painted. 
The body has over 30 points of articulation. It features a set of finely and thoughtfully designed armor guards for curating multiple styles and a finely tailored costume. 
The costume includes one grey-colored chest guard, grey-colored shoulder guards, navy-colored tunic, burgundy-colored under tunic, and so many more elaborate clothing pieces. Extensive wardrobe, hun? 
The six pieces of interchangeable hands include one pair of lightsabers holding hands, force-using hands, gesture right hand, and one relaxed left hand. His weapons include one battery-operated lightsaber with blue light and one blue lightsaber blade in motion. 
The accessories include one hologram figure of Ahsoka Tano, Yoda, Obi-Wan Kenobi, one thermal detonator, and one holoprojector. The figure stand bears the Star Wars logo and the character nameplate. 
One exclusive accessory was made available solely with the special edition, the grey-colored poncho with weathering effects. Also, the newly launched Star Wars Rex Sixth Scale Figure is insanely realistic and is receiving much love from fans. 
Buy At: Amazon.com
8. Hot Toys: Iron Man Mark 42 MMS197D02
This sixth-scale figurine is 12 inches high. This version of the Hot Toys comes with a range of alternate armor options. It has over 36 points of articulation. The eyes are LED-lit, and the chest is given with a circle-shaped RT. And yes, the face sculpts with this one, like almost every other figurine, is spot on. 
You get both the original as well as the battle-damaged version of the mask, chest armor, forearm armor, shoulder armor, and biceps armor. You also get three pairs of palms, including one each with moveable figures, better articulation, and repulsors that light up just like the original Iron Man.
You also get a pair of forceful fists and air flaps deployed behind the armor. The armor is done in gold, silver, and metallic red paint. 
The stand bears the Mark XLII name and has an LED-based light-up system. It also has a logo of the Iron Man franchise. 
9. Hot Toys: Aliens Ripley with Power Loader
Alien is one of the most excellent horror flicks of all time. Hot Toys produced this figure in 2007. While Ripley in the figure does not look like her movie counterpart, the detail of the power loader is compelling and makes the piece worth the price.
It includes an electronic light-up working warning signal light. The paint job is fantastic; it showcases the right amount of damage, weathering, and rub marks to give the impression of an actual piece of heavy machinery.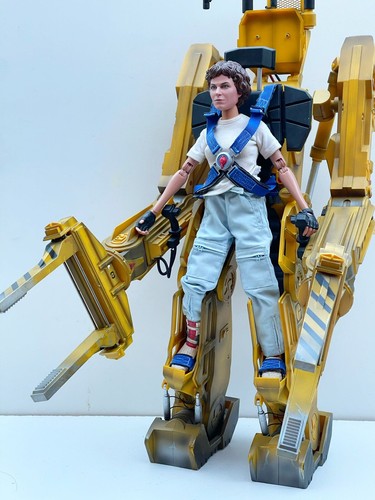 The prints and labels on each part of the figurine are top-notch. The wrists and the claws can move forward, backward, and turn, respectively. Ripley is the accessory here; it showcases its well-articulated body with the basic white tee, pants, and boots. Even the boot sculpt is spot on. 
10. Hot Toys: Robocop MMS 202
Part Man. Part Machine. The Robocop is characterized by sharp and defined armor molding. One can open the leg holster display, and the face sculpts spot on. Wait for the best part, and there is a remote control switch pressing which can make the figure say quotes from the movie. 
The figurine is designed with diecast material for greater realism and has over 25 points of articulation. The figurine features a highly detailed, sculpted body with metallic grey, silver armor, and four interchangeable lower faces.
It also comes with five pieces of interchangeable palms, including one pair of palms with improved articulation and moveable fingers. It also comprises one pair of fists and one fist with the spike. The weapons include a pistol and a diecast pistol. 
The figure stand with this one is hexagonal and bears the Robocop nameplate and movie logo. It is given with remote control for sound effects. Yes, the robocop speaks. It speaks six memorable quotes from the film. Excellent stuff, right? Let us know in the comments down below which of the six is your favorite. 
You might like to read: Best Toys For Kindergarten
11. Hot Toys: Wolverine Origins MMS 103
Wolverine is one of the best-loved superheroes, and this action figure has a great hard sculpt back for the time it was born. 
It stands up to realism and is characterized by the beautifully crafted brown jacketed costume, which is precisely similar to the movie. It features a fuzzy muscular figure body. The figurine has over 30 points of articulation and real-like wolverine-origin adamantium claws. 
The accessories included are dog tags and a leather-like belt with a detailed buckle. The base of the figure comprises the Wolverine nameplate and the movie logo. The look and appeal of the figure get full marks from us. 
12. Hot Toys: Jack Sparrow
The very name makes me mention: "The dead have taken command of the sea. They're searching for Sparrow."
This particular deluxe version comes complete with his ship's wheel and a simulated ship's deck base, which holds the figure showcasing Johnny Depp. The head sculpts feature two interchangeable faces with a patented interchangeable faces technique and rolling eyeballs too. Not only this, the clothing and accessories on this one are unlike any other figure and are detailed, accurate, and might have certainly taken a considerable amount of time to create. It comes with a large assortment of accessories and weapons. 
13. Hot Toys: 300 King Leonidas
This action figure is hard to find because it is number one on so many people's lists. The sixth scale figurine has over twenty-six points of articulation. It features an accurate facial expression and detailed skin texture that happens to be rubber skin that conceals all the joints. 
The head sculpt with authentic Gerald Butler likeness is impressive. The costume comprises one set each of spartan shorts, a red cloak, set of leg greaves, arm braces, brooch, wolf teeth necklace, scabbard, pair of sandals. 
It comes with two pairs of interchangeable hands. The accessories include one helmet, one spear, and one sword. The figure stand with this one bears the 300 movie logo and King Leonidas nameplate. 
14. Hot Toys: Rocket Raccoon and Groot
We couldn't help falling in love with the Guardians of the Galaxy's little raccoon with an affinity for giant weaponry and a giant living tree who could speak, but only three words. We are sure you fell in love with the same, too. 
The Hot Toys box conveniently and significantly incredibly brought together this dynamic duo in one stunning display set. Fans of the Guardians and MCU would be proud to own this one. One can get this set hands-on for about 300$. It features a highly detailed head and body with an excellent paint job, reflecting the distinctive appearance. 
It showcases a specially designed figure stand. The set comes with an interchangeable angry expression face and a pair of partially clenched angry palms for Groot. The list of interchangeable items doesn't end here.
It includes one pair of relaxed palms, open left palm with a genuine glow-like effect. One pair of partially clenched arms are exclusively given as a part of the collectible set. The orange and dark grey space suit make for one fantastic costume. The figure stand has the Groot nameplate and the movie logo. 
15. Hot Toys: Thanos on Throne
Thanos needs no introduction. He is one of the most infamous villains in comic book history. The name is enough to send mobs cheering in high spirit, and we are among the many who can't stop obsessing over this hot toy. 
Poised to be one of the biggest villains in MCU, the scene where Thanos can be seen comfortably perched on his oh-so-grand throne has been immortalized with this hot toy, and it is a super hit among admirers. 
One noteworthy characteristic that lends realism to Thanos is that his feet do not completely touch the ground when he sits on the throne. Attention to such minute details in the Hot Toy is what makes it worth the money.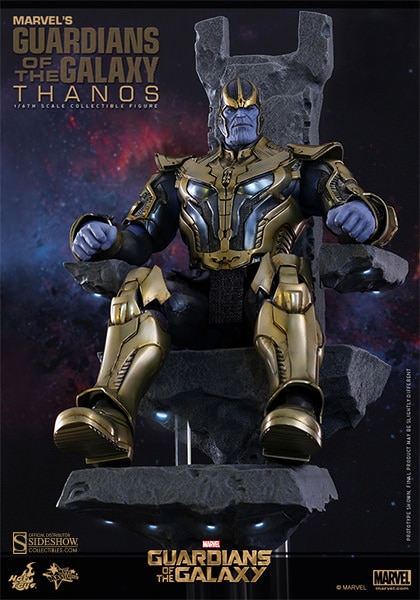 Not only this, the treads underneath his boots can't be missed. The figure has over 20 points of articulation. This articulation is so elaborate that it can be seen on the legs, knees, and ankles. His head is moveable and can move downwards and sideways, which creates more possible display positions. 
The figure comes with two sets of hands which comprises a pair of fists and opened palms. You have a myriad of options for how Thanos can be put on display owing to the accessories and interchangeable with the hot toy. 
Getting hands-on with this one can be rather a tough task and would also be heavy on the pocket. Oh yes, the Thanos throne is equipped with an LED light-up function. 
16. Hot Toys: Boba Fett Deluxe Version 
The Empire Strikes Back marked the launch of Boba Fett and marked its rise to fame. This hot toy very amazingly and incredibly captures Boba Fett in all his flying glory. The Boba Fett deluxe version includes a helmeted head with authentic battle damage and an articulated rangefinder. 
The distressed look of the weapon, armor, and accessories is amazing. The costume comprises one Mandalorian vest and armor (which also has a distressed look), one greyish-black long-sleeved shirt, one pair of weathered-looking gauntlets (brown-red), one brown leather belt with pistol holster and ammo, one pair of black-brown pants, roped belt (deep black-brown), a pair of black boots and one yellow right knee guard with weathering effects. Ah! Yes, God indeed is in the details. 
What is exclusive to the deluxe version? The head sculpts been completely redesigned with near lifelike expressions, wrinkles on the skin, and the body has 30 articulation points. The five pieces of interchangeable gloved hands are exclusive to the deluxe version. And, yes, this glory comes for a reasonable price which looks something like 470$. 
Which is your favorite Hot Toy?
Which Hot Toys do you own? Which Hot Toys are you planning to buy soon? Let us know answers to all these questions and your thoughts, doubts, experiences with Hot Toys, suggestions for us in the comments below because we love to hear from you. Also, if you enjoyed reading the article, share the same with your friends and family. Thanks for stopping by.